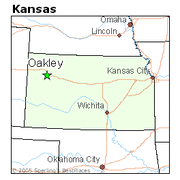 Oakley is a city in Gove, Logan, and Thomas counties in the U.S. state of Kansas.[1] As of the 2010 census, the city population was 2,045. It is the county seat of Logan County.
The fictional town of Jericho shares many similarities with Oakley, which is about 70 miles from the Colorado/Kansas border. Oakley and Jericho also share the same intersection points of Interstate 70, U.S. Route 83, and U.S. Route 40.
Approximately 70 Jericho fans met in Oakley on September 14–16, 2007 for the first Jericho convention, called Jerichon 2007. A second Jerichon was held Memorial Day weekend 2008, though fewer fans attended, set designer Mike Loomer made an appearance. A third Jerichon was discussed but never happened.