We're Getting Mutants in the MCU - The Loop
Play Sound
"Let me get this straight, we're talking about (Russian) Vietnam era planes, flying through Kansas airspace doing a Chinese drop using U.S. air force equipment?"
— Red Flag
Johnston Green was the mayor of Jericho for many years. A few weeks after the September attacks, Green lost the mayoral election to Gray Anderson. Johnston was the husband to Gail Green and the father of his two sons, Jake and Eric.
Before the bombs
[
]
Johnston Green was a very well-respected man in the town of Jericho before the bombs. Green was well-liked by the townspeople as well. He was mayor of the town for almost 30 years. He was married to Gail Green, and was present at the wedding of his son, Eric, and his fiancé April. At this wedding he bonded with his son Jake and his father E.J. Green. After Jake Green and Johnston have a strained relationship stemming from an incident in Jake's past in which, while working for Jonah Prowse, a botched robbery left Emily Sullivan's brother dead.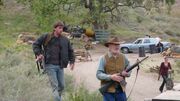 After the bombs
[
]
When Jake came back to Jericho to collect the inheritance of his grandfather's money, Johnston refused to sign it over, until Jake could prove he was living a more productive life. Despite their differences, Johnston still cares about Jake but is reluctant to show it: like when Jake saves the kids in a Bus Accident. He soon realizes that Jake returned a changed man after he witnesses some of Jake's actions. He is very sympathizing towards his sons and wife. He is very understanding and a leader as well: Jake is more like him in this way. That's why they tend to fight a lot. He truly cares about his town and will help his town at any means cost. He ends up falling sick with the flu and his sons risk their lives going to Rogue River to help save his life. When Jake was hypothermic, he discovers a bit of Jake's past and he realizes he and his son both share the pain of combat experiences.
During the New Bern-Jericho War, he was critically injured, resulting in his death. He was killed by New Bern troops under the command of Phil Constantino.
Quotes
[
]
"You never know when you might need a tank."
"We are about to go to war with New Bern Kansas, home of the nearest Costco. Today is already as weird as I can handle"
"I've been to big cities and foreign countries but id choose the good town of Jericho over any other."