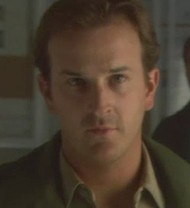 Background: Bill Erikson first appeared when Jimmy Taylor's son Woody had seen the mushroom cloud. Bill was kidnapped by convicts and shoved into the back of his police car.
What we know: He is willing to take a hard-line position and stick to it, even when dealing with friends and neighbors. When Stanley was accused of stealing pesticides from Gracie Leigh's store, he searched the Richmond farm, despite Stanley's protest. Knowing Stanley was not enough to dissuade him. During Ep 1.17 One Man's TerroristBill is willing to shoot his friend, Roger, to end the hostage stand-off. He seems very devoted to Mayor Anderson.
What we don't know: Bill seemed to be supporting Gray Anderson during his mayoral run, but he refused to divulge to Jimmy whether he was voting for Gray Anderson or Johnston Green.
Defining moment: When Jonah Prowse was captured for the murder of Gracie Leigh, and a guilty verdict was issued from a tribunal convened by Gray Anderson, Bill refused to execute him. Though he supported Gray's decision initially, he refused to follow through under questionable circumstances.
Character Connections: His best friend is Jimmy Taylor, a fellow officer. However, they have recently been separating, due to his support for Gray Anderson, and Jimmy's support for Johnston Green.